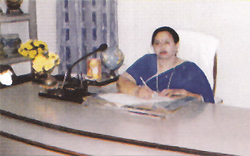 Gandhi ji said, "Education is the drawing out of what is best in man, body, mind & spirit."

Education is a continuous life process. It is never ending. It starts with the birth of an individual and it goes on till the last day of the individual. It is an essential human virtue. In a way education is a conscious, deliberate and purposive influence exerted by the society in the growing child to enable him to be culturally refined, emotionally stable, ethically sound, mentally and spiritually up right.

Ekta Mahila Shikshan Preshikshan Sansthan is an educational organization constituted to conduct job oriented various program all over India. Its examination body is Indian Women's Educational & Vocational Society, New Delhi. These are conduct in both regular and correspondence mode. We are making our efforts well to carry out successfully the vocational training programme to offer an opportunity to trained candidates carry out better jobs.

We have the most experiences, qualified and laborious staff for teaching our student with the most attractive and exhaustive methods.

The successful students of this institution are servicing in many private organization and earning handsome salary most of successful candidates are self employed/working in private & public schools/organization and they are achieving success in the field of livelihood.

In the world today all the Government are trying to educate their whole population. In this context Indian Women's Educational & Vocational Society, New Delhi is also trying to literate the maximum people and makes them self-employed, improve these life style and make a respectable citizen of the great India.

We also help for job placement for our outstanding and deserving student in the reputed schools as they reflect our education system and capabilities.

May god help us in this noble mission offering quality and affordable education to all students.